By combining Public and Private funding, ReTimber builds a portfolio of biodiverse forests. Forests as a Nature Based Solution to store Carbon and to produce recyclable biobased construction materials.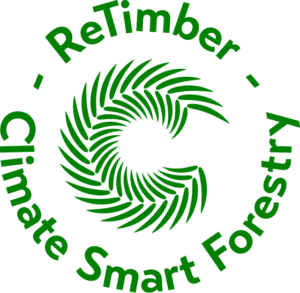 The fund will acquire farmland and/or existing forests and convert those to biodiverse sustainable managed forests. Starting in The Netherlands, later expanding into Europe. Minimum target portfolio size €100M.
ReTimber forests are managed according to the principals of Climate Smart Forestry. Climate Smart Forestry focuses on:
Carbonisation: By increasing and optimizing carbon storage in forests and wood products, in conjunction with the provisioning of creating a natural environment.
Biodiversity: By enhancing the health and resilience of forests, through adaptive forest management and creating a biodiverse ecosystem.
Decarbonisation: By using wood resources to create sustainably recyclable biobased materials to substitute non-renewable, carbon-intensive, materials.
ReTimber delivers a long-term Environmental, Social and Financial return, by investing in land and forests, a new real estate asset class.